I read this on Page One of The Straits Times on the floor today.

Aug 14, 2006
Road closures, diversions in Suntec area next month
By K. C. Vijayan

IF YOU are planning a trip to the Suntec City and Marina Square area from Sept 10, take public transport.

If not, be prepared for delays, road diversions and traffic jams because of the security measures being taken for the International Monetary Fund and World Bank meetings.

The meetings at the Suntec Convention Centre are expected to be attended by some 16,000 foreign delegates from 184 countries.

The Suntec Singapore International Convention & Exhibition Centre will be closed to the public from Sept 8 to Sept 20, but the Suntec City Shopping Mall and the office buildings will remain open.

Dad told me that it is the biggest convention to be held in Singapore. All the hotel rooms will be fully booked. The Singapore police think they can outsmart any potential protesters by ring-fencing Suntec City, which is the venue of the IMF meeting.

But I also remember how anti-globalisation people tried to disrupt the last World Trade Organisation meeting in Hong Kong. Those protesters, especially the Korean lobbyists, really hogged the limelight when they clashed with policemen in Hong Kong.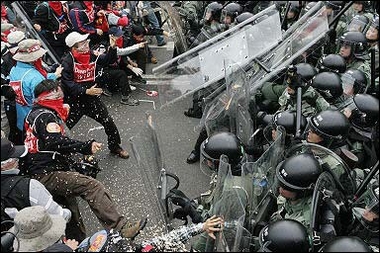 Although it is a different forum in Singapore, protests are still expected as World Bank and IMF policies have far-reaching impacts on some economies. See what happened to countries that went to IMF for financial help during the regional financial crisis.

I can't wait to see what the demonstrators will do to be in the limelight in Singapore. I'm quite sure they will do something fancy to attract attention.