Both Singapore and Malaysia are rushing to complete their respective giant ferris wheel projects to help woo more tourists.

As in many things since the separation of the two countries in 1965, Singapore will have the edge.

The Singapore Flyer will be the world's biggest with a diameter of 178 metres. This will surpass record holder -- London Eye, which has a height of 135 metres.

Eye on Malaysia will have a diameter of a mere 60 metres. But the Malaysian Eye will start operations this weekend, while the Singapore project will only be completed next year.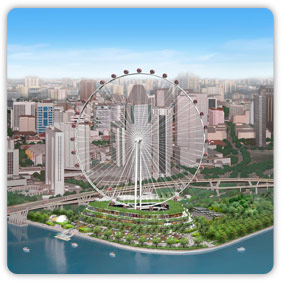 (Pix source: The Singapore Flyer)


(Pix source: Screenshots)